Paella experience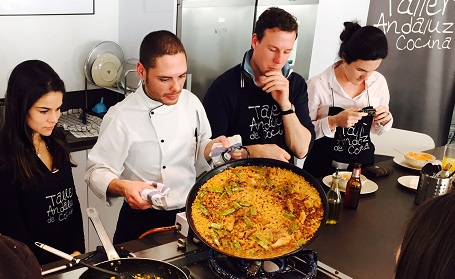 If you want to learn more about the Spanish cuisine but don't have much time in Seville, here is our 2.5 hour hands-on Spanish cooking class consisting in 2 course menu.
Classes are taught in English by professionally trained chefs. The ingredients used are fresh and seasonal, since we are located inside Triana food market.
Menu to cook:
Gazpacho
Paella Valenciana
You will also learnt to prepare a Sangria. Table olives are served during class, and at the end guests eat what has been cooked with your home made sangría.
During the class, guests have the chance to get involved in the preparation of the dishes, as classes are designed for both novice and experienced cooks that will be able to learn and develop new techniques and skills.
All of our recipes can be adapted to any dietary restriction. Please advise in advance if a change in the menu is required.
Once back home, you will be able to practice what you have learnt. We will give you written recipes and lots of tips!
Location: Triana Food Market, stalls 75-77. Plaza del Altozano s/n. 41010. Sevilla.
Price for adults: 50€ (children under 14: 30 €)
Duration: 2.5 hours (including eating time)
Language: English
Booking in advance required
(This class can be cancelled if there is not a minimum number of attendees. If so, we would inform in advance)
Date 
 
 
Price
 
 
Diciembre
Lunes
11/12/2023
18:00
50€
Disponible
Reservar
Enero
Miercoles
03/01/2024
18:00
50€
Disponible
Reservar
Lunes
08/01/2024
18:00
50€
Disponible
Reservar
Miercoles
10/01/2024
18:00
50€
Disponible
Reservar
Viernes
12/01/2024
18:00
50€
Disponible
Reservar
Miercoles
17/01/2024
18:00
50€
Disponible
Reservar
Viernes
19/01/2024
18:00
50€
Disponible
Reservar
Lunes
22/01/2024
18:00
50€
Disponible
Reservar
Miercoles
24/01/2024
18:00
50€
Disponible
Reservar
Viernes
26/01/2024
18:00
50€
Disponible
Reservar
Lunes
29/01/2024
18:00
50€
Disponible
Reservar
Miercoles
31/01/2024
18:00
50€
Disponible
Reservar
Febrero
Viernes
02/02/2024
18:00
50€
Disponible
Reservar
Lunes
05/02/2024
18:00
50€
Disponible
Reservar
Miercoles
07/02/2024
18:00
50€
Disponible
Reservar
Viernes
09/02/2024
18:00
50€
Disponible
Reservar
Lunes
12/02/2024
18:00
50€
Disponible
Reservar
Miercoles
14/02/2024
18:00
50€
Disponible
Reservar
Viernes
16/02/2024
18:00
50€
Disponible
Reservar
Lunes
19/02/2024
18:00
50€
Disponible
Reservar
Miercoles
21/02/2024
18:00
50€
Disponible
Reservar
Lunes
26/02/2024
18:00
50€
Disponible
Reservar
Marzo
Viernes
01/03/2024
18:00
50€
Disponible
Reservar
Lunes
04/03/2024
18:00
50€
Disponible
Reservar
Miercoles
06/03/2024
18:00
50€
Disponible
Reservar
Viernes
08/03/2024
18:00
50€
Disponible
Reservar
Lunes
11/03/2024
18:00
50€
Disponible
Reservar
Miercoles
13/03/2024
18:00
50€
Disponible
Reservar
Viernes
15/03/2024
18:00
50€
Disponible
Reservar
Lunes
18/03/2024
18:00
50€
Disponible
Reservar
Miercoles
20/03/2024
18:00
50€
Disponible
Reservar
Viernes
22/03/2024
18:00
50€
Disponible
Reservar
Lunes
25/03/2024
18:00
50€
Disponible
Reservar
Miercoles
27/03/2024
18:00
50€
Disponible
Reservar
Abril
Lunes
01/04/2024
18:00
50€
Disponible
Reservar
Miercoles
03/04/2024
18:00
50€
Disponible
Reservar
Viernes
05/04/2024
18:00
50€
Disponible
Reservar
Lunes
08/04/2024
18:00
50€
Disponible
Reservar
Miercoles
10/04/2024
18:00
50€
Disponible
Reservar
Viernes
12/04/2024
18:00
50€
Disponible
Reservar
Lunes
15/04/2024
18:00
50€
Disponible
Reservar
Viernes
19/04/2024
18:00
50€
Disponible
Reservar
Miercoles
24/04/2024
18:00
50€
Disponible
Reservar
Viernes
26/04/2024
18:00
50€
Disponible
Reservar
Lunes
29/04/2024
18:00
50€
Disponible
Reservar
Mayo
Viernes
03/05/2024
18:00
50€
Disponible
Reservar
Lunes
06/05/2024
18:00
50€
Disponible
Reservar
Miercoles
08/05/2024
18:00
50€
Disponible
Reservar
Viernes
10/05/2024
18:00
50€
Disponible
Reservar
Lunes
13/05/2024
18:00
50€
Disponible
Reservar
Miercoles
15/05/2024
18:00
50€
Disponible
Reservar
Viernes
17/05/2024
18:00
50€
Disponible
Reservar
Lunes
20/05/2024
18:00
50€
Disponible
Reservar
Miercoles
22/05/2024
18:00
50€
Disponible
Reservar
Viernes
24/05/2024
18:00
50€
Disponible
Reservar
Lunes
27/05/2024
18:00
50€
Disponible
Reservar
Miercoles
29/05/2024
18:00
50€
Disponible
Reservar
Viernes
31/05/2024
18:00
50€
Disponible
Reservar